Is Traffic Travis the Answer to all things big online?
When it comes to using Traffic Travis and deciding if keyword research is even worth it in the marketing world, there are two schools of thought.
Keywords mean nothing. You will use them anyways if you're business is legit and you are writing interesting content.
Keywords are everything and you're a moron if you don't use them.
Now I'm pretty new to the online ranking world, and I can't tell you how many times the world "UNIQUE" has been shoved up my butt.
(Ok..not up my butt…but it's been said again and again)
The funny thing is, is that I'm generally considered a unique person in the life of real people.
You know…when you go out and you mingle with humans?  (or maybe it's my queer paranoia that I think I'm not normal that makes me think this…hmmmm)
I tend to be one of those ones that "stands out" ….or at least I use to be.
Anywho, my point is, finding my voice online has been a challenge.
I have read THOUSANDS of other blogs and to be quite frank, very few are unique and interesting to me.
(Maybe I'm eclectic)
I just can't stand reading the same crap….again and again.
But then I take a look at this blog this morning (it's ranking well in some great places)  and I'm BORED.
Does ranking on google mean I have to imitate those other ones?
Why!!!:??
I'm somehow allowing myself to get placed in this cookie cutter winning format to win the Google ranking game…..
….and quite frankly it's pissing me off.
If I'm going to be known…I want people to know weirdo, every day, ME.
But how do you make a mlm review interesting? (I do have some ideas on this…believe it or not)
In comes the keywords….and Traffic Travis.
TRAFFIC TRAVIS – Using Keywords without losing your voice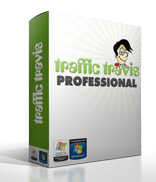 Sadly (or not…depending on how you look at it), Using keywords in your posts is a necessary evil.
I do agree that if you are going to be writing well within your niche that you will indeed naturally use the keywords that people already look for.
The world will warm, spring flowers will grow and fuzzy cute bears will follow you prancing everywhere.
All things are warm and fuzzy.
Whatever.
Are you on crack?
Ok..so maybe you are.  But whether you are or not, it doesn't change the fact that fuzzy bears show up more often when keywords are used WISELY.
Although things happen by chance, if you are serious about your online business, you are better off making things happen rather than waiting for chance to show up and that means knowing how keywords CAN HELP.
So, keywords and tools like Traffic Travis can help you get there.
Personally, I use the free version of Traffic Travis often times before I write an article.
But this is not always the case.
Sometimes I use it after I have written an article just to get an idea of some words that I may want to emphasize.
The more I write, the better I get at not having to use Traffic Travis, however, I do use it as my security blanket.
Traffic Travis – How to Use It For Ideas
Using Traffic Travis is slightly annoying for me.  Not because the tool sucks (it's a great free tool), it's because my computer sucks.
I work from a pink crappy little laptop that frequently gets pissed off at Traffic Travis.  But I trudge along anyways because I will conquer this issue.
Anyways…
Using Traffic Travis is very easy.  You download the program.  You fill out the little bit of registration info. And you're on your way.
I'm going to show you how I would generally approach using Traffic Travis to write up an article or to "check in" on an article afterwards.
First things first…I hit "Research"
Then it will give you  blank page. (not like the photo above)
Then I input a keyword.  Use the drop down to make sure it's at 100 and hit "Fetch".
(Note: You can only ask for 100 keywords with Traffic Travis Free Version)
Then what you see is what I have already shared.
A bunch of keywords related to the topic.
You will note that some are longtail and some not.
I have no idea how Traffic Travis decides which ones to give me.
You can used the "Advanced" feature to change the SERP results but I like to keep it broad so I can get a better idea of the competition that I'm dealing with.
The very first thing I do is see how things are searched Globally, take a look at the competition and then make a decision of what to do next.
In this example, seo has a high search volume.  As you go across the data, you will see that the cpc is pretty high (good to know if you aim to rank it organically) and the SERPs are nutty.  The KEI is also very high.
These are all great signs that "seo" is a term that people are definitely looking for.
Bad news though…..You want to rank fast and furious.
Seo is likely not the BEST term to go after.  You need to make it a longtail term. Also…check out the competition….It's HIGH.
I do note these types of results but I reserve High SERP, High Competition words for my Titles.  Generally, I use them with another word.
In this case, if I was shooting for SEO….I would likely put "CITY SEO" and start on a smaller scale and work my way up in the world.
So within this example, what would be something that would 'catch my eye'?
I scroll down and I look for high volume searches and Low Competition.
That's step one.
Then I take a look and make sure KEI actually has some value.
Then…I check out the SERP.
If the SERPS are over 1 million as a new person….I might rethink it.
However…..SERPS are weird and they just give you an idea of how many people will show up for the keyword on a broad search (or whatever you specify in the settings)
In general, if the SERPS and competition are low…it's a no brainer.
If the SERPS are high..it means you might have a little more challenge. And if there is NO KEI number…you might rank but you may not see much traffic because people aren't really looking for you (so expect to see a low search volume as well)
Here's an example of some keywords I would pursue:
What I did here was I clicked on SERP and I started looking for low competition with higher search volumes.
On this example the "easy" terms to rank for are the ones highlighted.  I prefer the bottom two here because of the KEI levels.
Now…this is HOW I do things.
Which doesn't mean crap.
Honestly….it depends on where you live and what your local competition is if you are working at a local level.
I have used this method and done pretty well for a while, however, I know there are better ways.
I used this method for a chiropractic niche and found out very quickly that chiropractic is a very highly competitive niche.  Keywords will only take you so far.
I will use this keyword tool to help direct my h1/h2 tags if I feel like being more robotic or completely ignore them altogether if I'm being feisty.
If you think you'd like to try Traffic Travis – Here's some handy dandy Links for You:
Or if you're feeling the Pro in you:
And…just cause you suffered through my article…I'll hook you up with the $1 free trial of Traffic Travis Pro (I can tell you're excited….)
$1 Pro Trail of Traffic Travis (Cause you're cool like 'dat)
Traffic Travis – The Answer to All Things!
Now if you are thinking, that after reading this, that you can conquer Google just because you found a new tool called Traffic Travis to use on your war against the odds in online marketing……
….you need to put the pipe down.
Clearly you are smoking too much and know nothing about online marketing if you think one magical tool will save the day.
Working online to make money takes hours and hours and HOURS of learning and working.
There are tools, like Traffic Travis that can help you if you know how to use them.  There are also tools that can harm you.
The key is to not allow anyone tool dictate too much of your time and learning how to use the tool in such a way that your forward progression continues.
Any tools or technique that cause more than a minute drop in your production or advancement is probably a tool that is not for you at this time. (Read…you still have to learn the basics before you put on your big boy pants).
There is a reason seasoned veterans can rank pages faster than you.  They've been where you are and they've found their rhythm, voice and pattern that worked.
And their way should influence you but not be the soul in you.
Learn from them, Learn the tools, but find YOU.
I truly believe that it is your uniqueness that will be the difference in joining you leaders at the top.
They are already do well as THEM.  You need to find YOU.
My personal goal is to continue to push finding my interesting mlm review voice.
"Hey Hey Guys!!!! Look at this cool MLM review site I found! Let me tell you about the compensation plan, the company and more!"
Honestly….who gives a crap?
I need to find a way to make this stuff more interesting….OR….maybe…just maybe…..get rid of mlm altogether.
What are your ways of making a review on mlms sound different and more interesting, yet provide value to your readers?
Please…comment below.
-Charissa
To find out more about the at home money making opportunity I recommend: Go here.